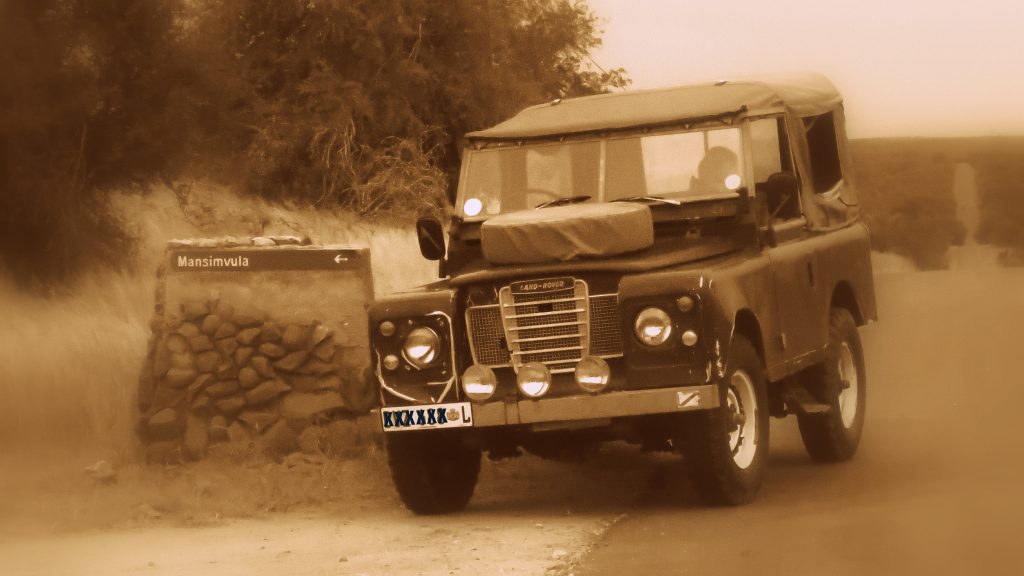 Goodbye My Grove
My Love
My Life

This time of the year, a time of Spring where I come from has, over the course of my life, regularly been a time of radical change or of life-changing moments; a sort of rebirth, like the emergence of the new growth and spark of life that just so happens in the Spring. Two of those occasions that perhaps stick out more than most is the time I found myself under an elephant, dodging her tusks as one by one, she thrust them into the ground only inches from my head, ultimately goring me and another time when I was put to sleep in a hospital surgery only to wake up with a new kidney and an entirely new life to live.
In terms of life's repetitive history, it seems that yet another one of those life-altering events has presented itself now and it is time to live my new life, guided by circumstances themselves miraculous and I will look upon my last reemergence as a magical era and one in which I spent a lot of time connecting with Mopane Grove.
For fifty years, Mansimvula and in particular, Mopane Grove, was a second home, the place that sparked a yearning ember to discover nature, becoming a fiery passion that grew with the decades. It was times that I got to see a corner of the Greater Kruger that offered a freedom to explore unheard of anywhere else.
It would take hours to get there in the early days of a thin dirt road that stretched endlessly into the depths of Mopane forests alive with their greatest farmers, the Elephants. It was hours of game drive that ended at the entrance to our paradise and that is where, as a kid, I would get out to open the gate and also walk home that last half a mile. This is where I would take off my shoes to feel the fine reddish brown dust of the track that winds its way into camp, familiarising myself with the spoor of the residents and reacquainting myself with the smells of the bush.
Over the last few years, I reconnected with Mopane Grove and Mansimvula in ways more than any other time of my life. Following my life's path, I became as much of a resident as the animals and birds around me. I had become as much a fixture of the grove as them and I knew their routines and personalities and many of them became accustomed to mine.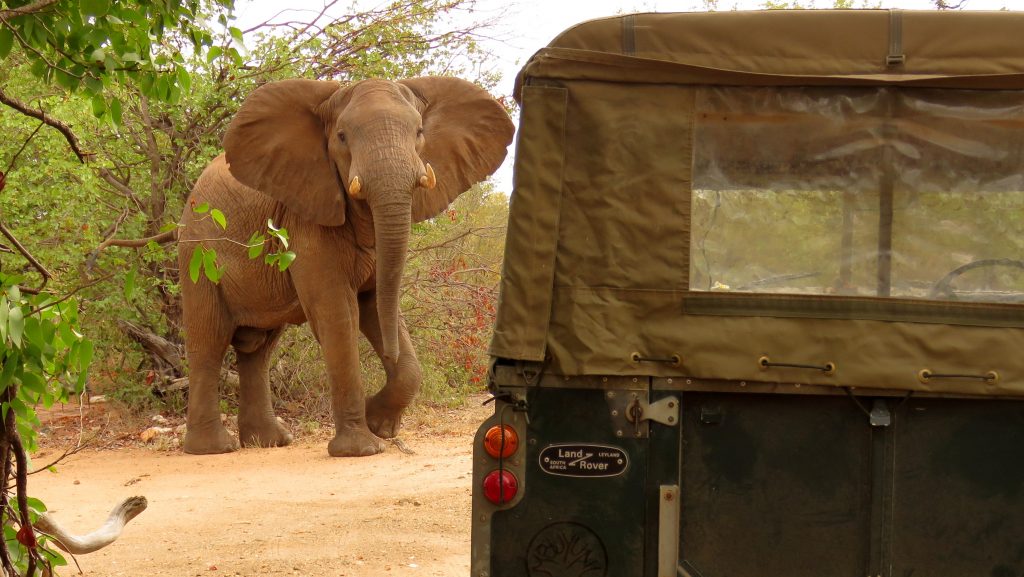 There were the resident Impala, Duiker, and Steenbuck. The local family of Warthogs, A clan of Dwarf Mongoose and a naughty gang of Banded Mongoose. Transient Buffalo, Giraffe and Kudu and occasionally the cats that hunted them. Then there were the Elephants, either strolling by the bungalow or lingering, feeding on the Mopane trees in camp, usually changing the landscape as they did so.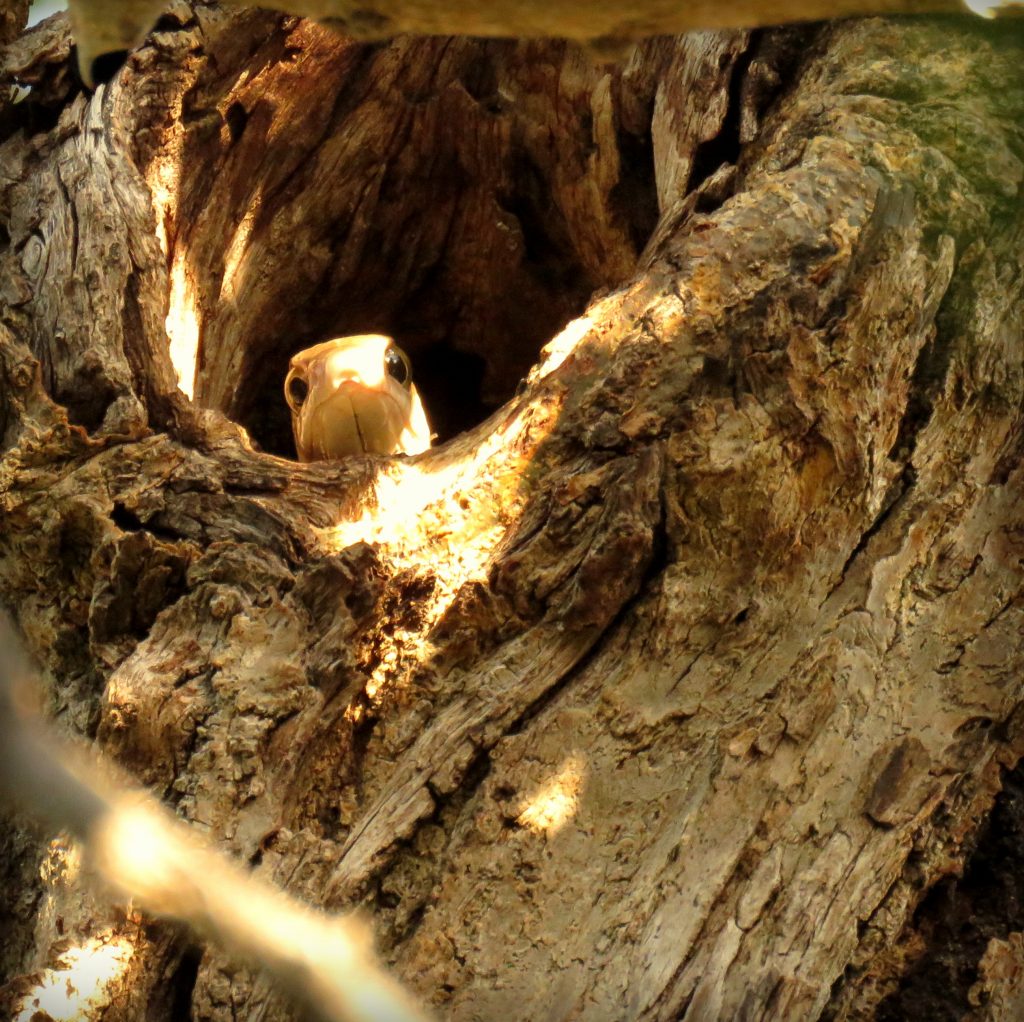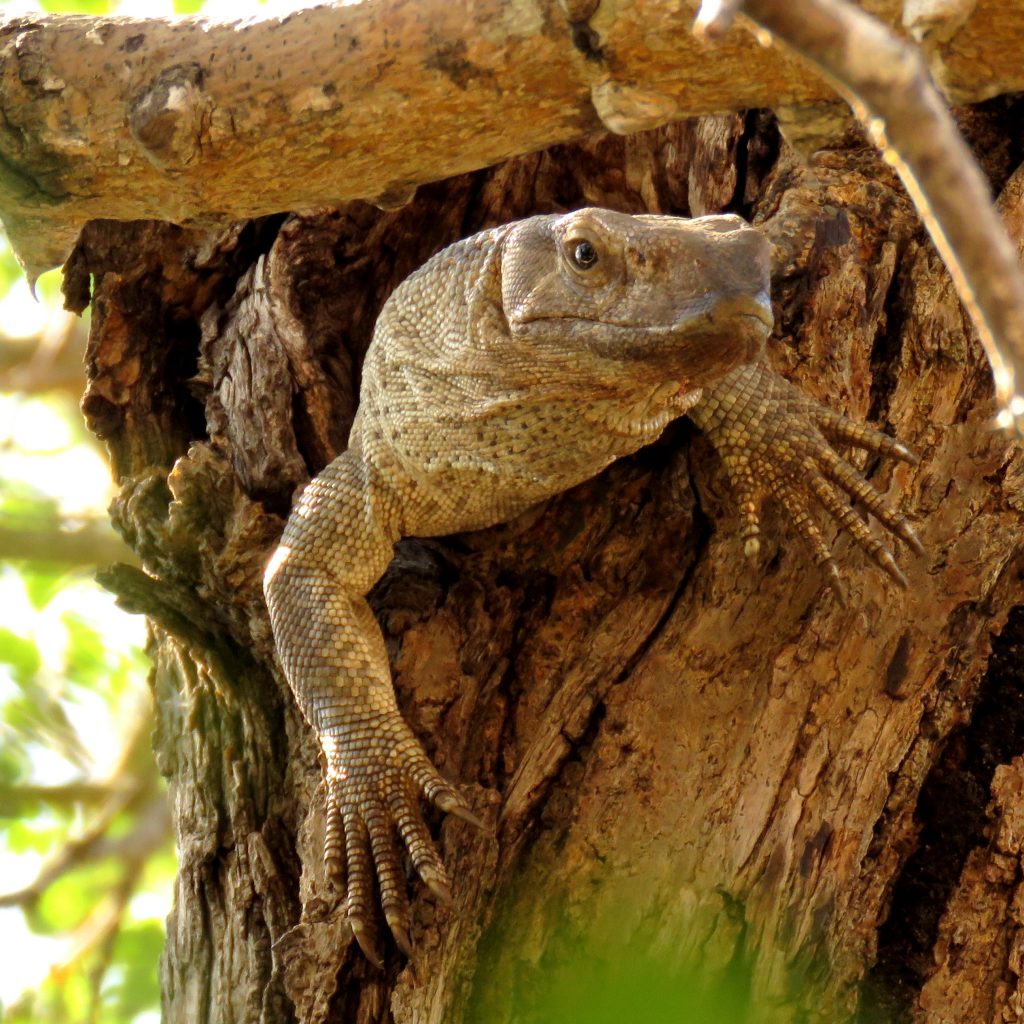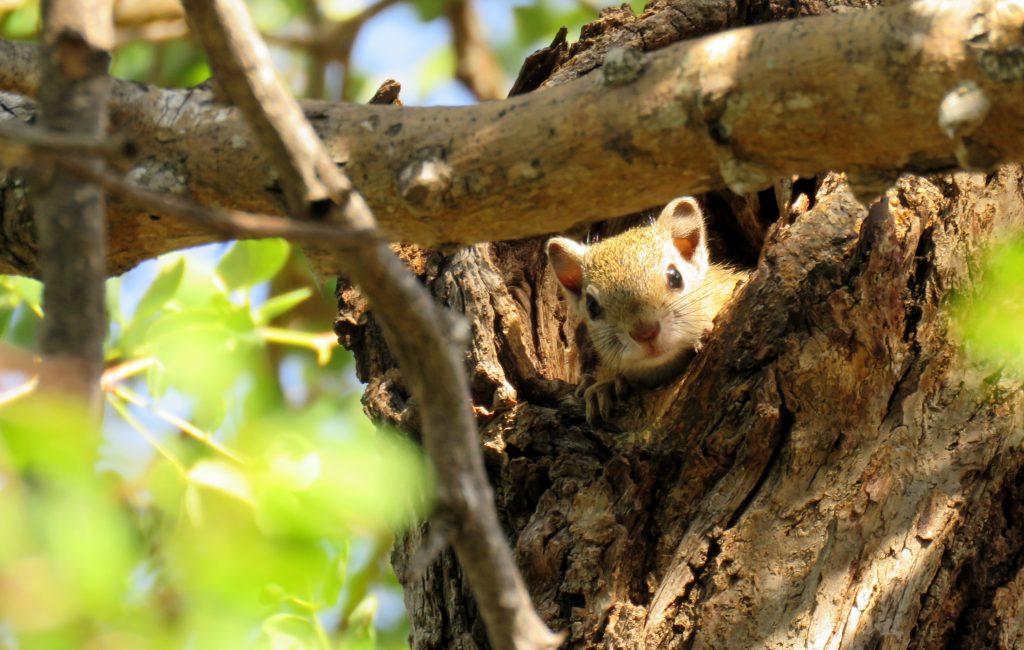 There was the boomslang, most likely the same one that I removed from Ian's upstairs bathroom some years ago, that appeared regularly to take over the squirrels nest in the Knobthorn at the front door, only to be ousted shortly thereafter by Monty, the monitor lizard that usually hangs out under the awning of the "small bungalow". Monty would soon vacate the hole and the squirrels would noisily take up residence again.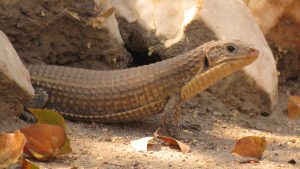 There was Larry, a quirky plated lizard who lives under the old pond that I built in the early 80's who never failed to entertain and Tim the dwarf gecko that would join us for tea every morning, happily taking flies from my hand. The Umchies, a family of Crested Francolin that made unique noises to each other as they scratched in the sand like chickens around us and the countless resident birds that knew we meant no harm and who took great pleasure in the birdbaths that I made over the years.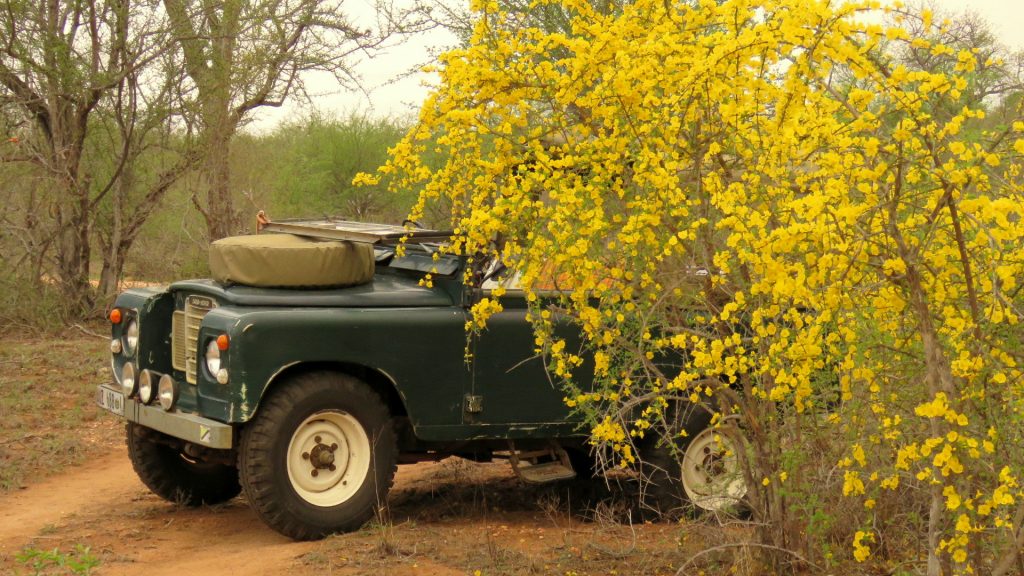 For a wonderful period of my life, I was barefoot in the land of giants, feeling the earth and the energies with each step, feeling the subtleties of soil and the roughness of stone and sand. And thorns. I got to know the resident snakes and recognized snails that only showed themselves once a year after a heavy rain. I anticipated flowers when the first rains fell and watched the trees come alive with leaves and blossoms. I watched the moon and its cycles and bathed in its light that paints the world silver.
Mopane Grove was my life. Nature knew me and Elephants greeted me.
At no time did I ever imagine leaving all that; not being able to look up into the web of poles and thatch that made up the roof as a candle flickered shadows that would make eyelids heavy and dreams only a sigh away.
I had said goodbye to Mopane Grove once before when I had to leave the bush and begin anew in the city, to await a kidney transplant that was inevitable. I had come back at the turn of the century, from living in the greatest wildlife area, the expanse of the Selous Game Reserve in Tanzania to spend time at MG to renovate and repair The Bungalow. When I left, then, there was no way of knowing whether I would ever be back.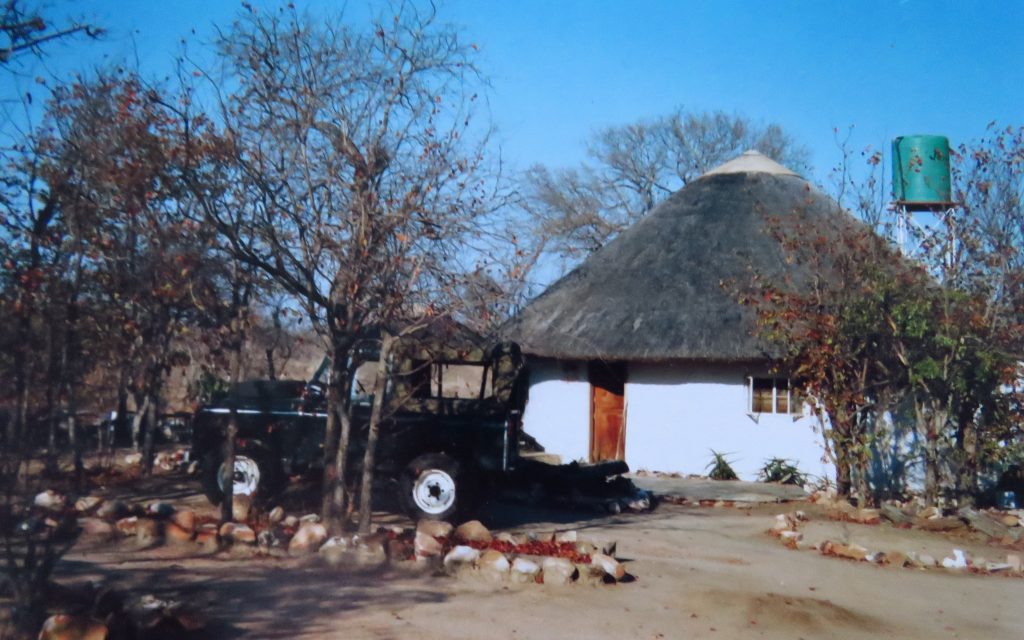 For a time after the transplant, when I was given a new chance at life, it was still doubtful whether I would be able to get back to the bush because of the post-transplant medications and restrictions they imposed on my life. However, not long after recovering, I had the opportunity to explore another land of Elephants in the volcanic wonderland of The Chyulu Hills in southern Kenya. With a view of Kilimanjaro beyond my feet every morning, there was no way I was passing that up and instead of wallowing in all the reasons that I couldn't return to the bush, I began a mindset that was based on how I could adjust my life to be able to do so. For as long as I was able to do so.
I stayed away for several years, exploring Elephant worlds in other parts of East Africa. In Meru National Park, Kenya, I would sit on a rock on a Kopje in the evenings, watching the sun go down behind Mt Kenya, the same rocks that Elsa and George would sit on. Then I found myself following the footpaths of Elephant herds and migrating grazers, that led into the swamps of the remote southern Tarangire National Park in Tanzania where Ele's accumulate in numbers that are indescribable.
I also spent time in the fynbos of the Cape on the southern tip of Africa, immersed in a botanical wonderland and awed by whales and eagles.
And all this time I longed for The Grove but had no way of being there.
When I finally returned, in the summer of '08, I had been away for the longest time. There was a tar road and it was lined with Eskom powerlines that had facilitated the growth of infrastructure and the enlargement of the human footprint as the bush became a popular place to unwind and enjoy nature. Fortunately, this also led to a greater interest in the conservation of wildlife and the protection of their lands.
Mopane Grove was wearing her untended years badly and after a few years of a wild ride with Wild Earth in the Sabi Sands and a short spell in Ruaha National Park, where I was once again enthralled by a new place to explore and new Elephants to meet, I finally had the means to give The Grove a new groove and a new lease on life too. I fixed all the cracks, reinforced and rethatched the roof and gave it new coats of paint inside and out. It was looking its best in 50 years.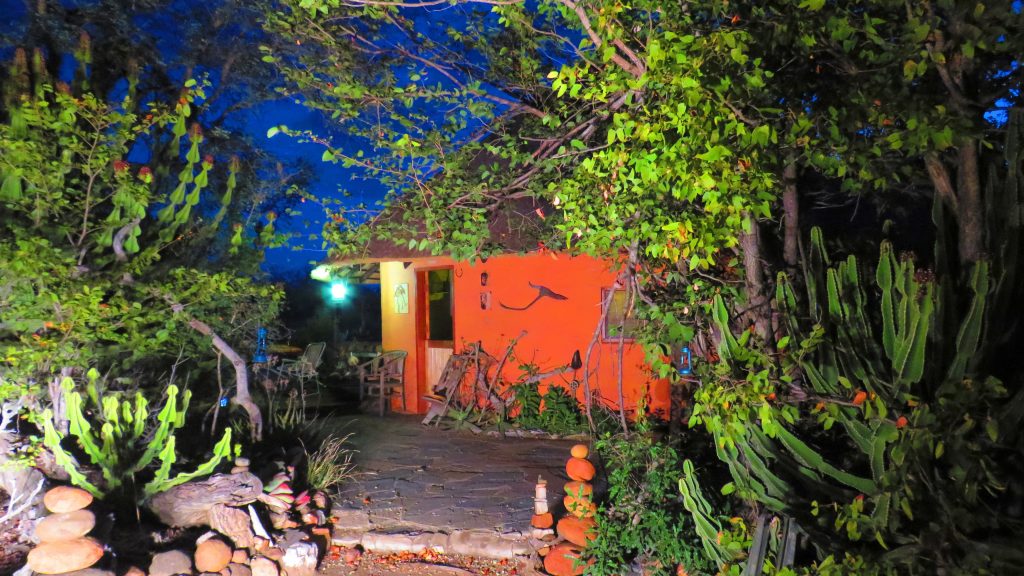 These last 15 months, from early in July last year to present, what should be my spring, I have had many moments when I doubted my strength and was lucky to awaken the next day. I have spent so much of that time in hospital on machines, connected to tubes and wires and steeped in depression. Mopane Grove slipped further and further away as my health deteriorated and new disabilities now have me living a new and different life. But I Have a life, and as soon as I know how it needs to be lived, I will attack it with as much vigour as I can muster.
Along with this new life comes new realisations and it became clear that it is simply impractical to hold on to Mopane Grove any more, especially since my chances of returning full time no longer exist and I will be lucky to just visit again one day. For that to happen, I will need a new kidney and not be reliant on a Machine three times a week.
It was not an easy decision that we had to let go of The Grove. Knowing Chris and Ariel, I hope their time on Mansimvula is as rewarding for them as it has been for my family. Being part of the Greater Kruger is a very special gift and Mansimvula is but a tiny piece of Mopane veld that lies so deep in the National Park and its Elephants. Although it has nothing to compare to the places I have lived; the Sabi Sands Game Reserve, the Okavango Delta in Botswana, the Lower Zambezi in Zambia and all those places I mentioned in East Africa, it has been the centre of my universe, it has shaped my soul and my sole. My footprints have been eroded by wind and covered by the tracks of its residents and it will live in my mind as my greatest place on earth.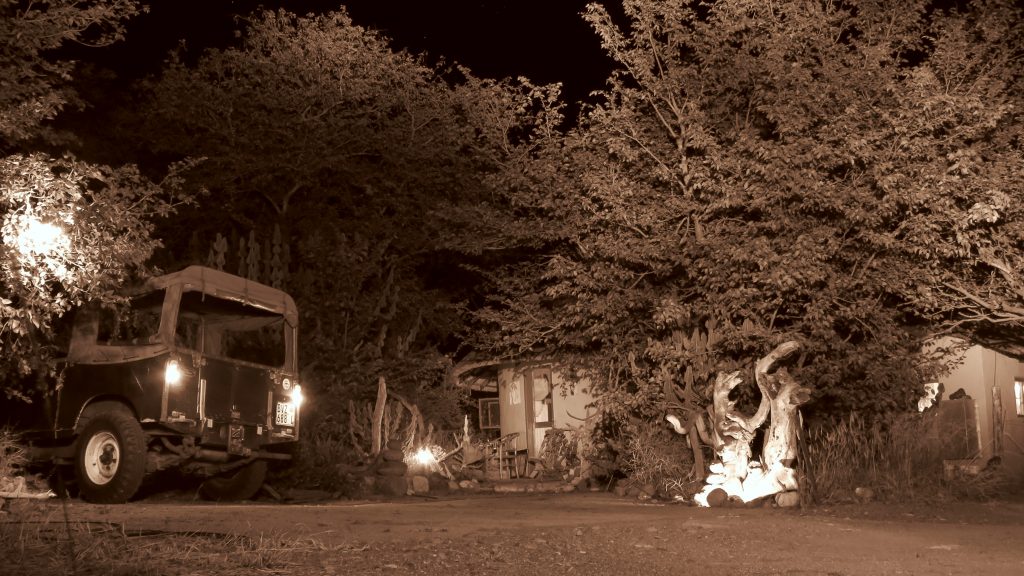 It is ironic that a friend, Rae, had helped with the creation of my website, mopanegrove.com and shortly thereafter, I had to say goodbye to The Grove as I drove away for the last time. Thankfully I have many many memories and if I don't lose any more hard drives, I still have some photos of my fellow residents at The Grove and in my head are the stories of the times we had together. The website is where I will now reside and I will try to share those memories as I explore a different country, a different hemisphere and live under the skyway of thousands of birds as they fly between Europe, Asia, and Africa, heading for South Africa and just perhaps, a visit to Mansimvula.